Marty Martins
Biography
MARTY MARTINS grew up in Wisconsin and has experienced his share of blizzards. He retired in November 2009 after 23 years as a career prosecutor where he witnessed first hand the effects of dating and domestic violence. Before turning to the law, he was active in professional rodeo as a contestant, announcer, editor, and publicist. Marty lives in California where, in response to readers' demands to learn what happens to Chet and Melanie, he is working on a sequel.
Videos
The Blizzard Video Trailer
Melanie is the pretty and popular cheerleader who has conciously avoided Chet, the strange, new kid at her school. When Melanie flees into a raging snowstorm to escape an attack by another boy, she falls into a frozen lake. Chet is in the woods working his trapline and hears her cries for help, but will saving her turn out to be an example of the old saying: No good turn goes unpunished?
Books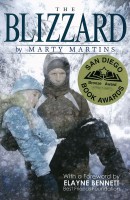 The Blizzard
by

Marty Martins
Fleeing into a blizzard can be life threatening. When Melanie falls into an icy lake, the most unlikely person hears her call for help. Taking refuge in an isolated cabin may prove to be more difficult than escaping an abusive relationship and a frigid death, in...The Blizzard.
Marty Martins' tag cloud