Tom Padley
Biography
I married at the age of twenty while attending college. Because we couldn't have children naturally, my wife and I decided to adopt our family. We now have five adult children, four of whom are married. And we have several grandchildren.
I've had many 'interesting' life experiences which make my personal view of the world somewhat unique, considering that I was raised in a very religious community. Let's just say that I have never been one to march to that particular tune. I have tried, though. It just never seemed to work out for me. I'm too much of an independent thinker, and I don't follow the crowd well. Authority is oppressing to me. Organizations frighten me. And I suffer from claustrophobia as well as a certain level of agoraphobia. But my saving grace is creativity. I love art and writing, and I am learning to plunk out a few bluesy tunes on an acoustic guitar.
I hope you enjoy reading my books.
Books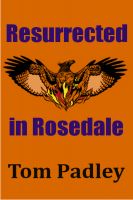 Resurrected in Rosedale
by

Tom Padley
The story of one man's return home after being thought of as 'killed in action' during the Vietnam war. Harwood's return, prompted by his father's death, uncovers an ugly series of murders in this seemingly idyllic small town near Salt Lake City, Utah. Religion, delusion, conspiracy, as well as good old schizophrenia move the story to a dramatic conclusion as Harwood becomes an amateur sleuth.
Tom Padley's tag cloud