Margaret T. Lambert
Biography
Margaret Lambert is a Registered Psychologist who works as a counselor, mentor and supervisor in her business, Connect Counselling Services, Darwin, Northern Territory (N.T.) Australia. Also a qualified teacher and librarian, Margaret has worked and taught in educational organisations from pre-school through to university and has presented at conferences in Australia and internationally.
Margaret has lived with Chronic Fatigue Syndrome (CFS) / Fibromyalgia (FM) for 20 years. Her search for better health has led to her interest in holistic healing and Energy Psychology, and furthering her skills as a practitioner of Emotional Freedom Techniques (EFT). Author of a number of articles, Margaret's writing underscores her belief in the interflow of the body, mind and spirit, and the importance of healing and nurturing each aspect of ourselves in order to achieve optimum health and wellbeing.
Books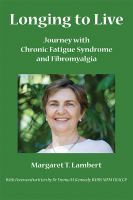 Longing to Live: Journey with Chronic Fatigue Syndrome and Fibromyalgia
by

Margaret T. Lambert
This book offers a perspective on chronic illness that is gentle, thoughtful and hopeful. It will interest Chronic Fatigue Syndrome and Fibromyalgia sufferers and their carers. For health professionals early or later on their professional journey, Longing to Live offers insight into the suffering of chronic illness and the importance of autonomy for sufferers in contributing to their healing.
Margaret T. Lambert's tag cloud