Margaret Welwood
I love stories!

I've been an avid reader, English as a Second Language instructor, and adult non-fiction writer and editor . . . and now I'm writing books for children.

Stories, whether true or made up, have been my travel companions down this pleasant pathway. When our children were little I was the story lady during the morning church service. Years later, I was a volunteer storyteller at our local day care. And I taught English as a Second Language to adults with stories as a mainstay.

I was privileged to edit the second edition of Diane O'Grady's prize winning book, "To Teach, To Learn, To Live: The Complete Diabetes Education Guide for Health Care Professionals"—and the case studies and cartoons were among my favorite parts.

Now a new door has opened into the community of Scissortown and other places in Storyland . . . the worlds I'm exploring with my grandchildren, Tommy and Tina.

But there's something about Tommy and Tina that has changed the game a bit . . . .

We make up stories together, based on fantasyland happenings with characters with Tommy's and Tina's personalities.

Take Scissortown, home of the neatest and tidiest people anywhere. Enter the Slicers and Dicers, clumsy-looking creatures without a mean bone in their bodies, but OBC types who never met a pinking shear they didn't like. They wreak havoc in neat-and-tidy land until the grown-ups come up with a "solution"—and that creates another huge problem for everyone.

Enter Tommy and Tina as I see them, in a make-believe town but with their real and fascinating personalities . . . .

"Scissortown" is the only picture book for children I know of with a choice of inside back covers: faith-based or secular.

Both versions are available from my website in paperback, regular e-book, and enhanced e-book with audio narration and word-by-word highlighting. The highlighting can be helpful to children who are learning to read. It helps them to connect the written and spoken word while enjoying the story.

"How to Prepare Your Young Child for Success in School", "Scissortown", and other books to follow are expressions of my love for my children and grandchildren, and our shared enthusiasm for stories. Enjoy!
Scissortown Snippets
"The story was very engaging. The Slicers and Dicers reminded me of Dr. Seuss, and that you used a pet as the ultimate hero was fabulous."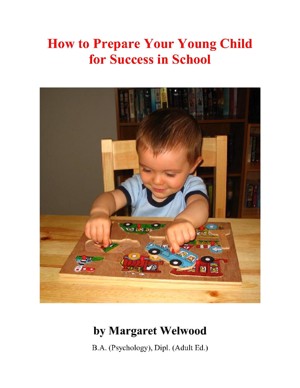 How to Prepare Your Young Child for Success in School
by

Margaret Welwood
(5.00 from 3 reviews)
A simple guide to fostering language development pre-birth to four years old. How does music help? What kind of music? What kind of toys are best? What colors? What kind of books work well for very young children? How much TV should children under two years old watch? And what can you do now to delay symptoms of Alzheimer's when your child is an older adult?