Troy Horne
Biography
TROY HORNE is a dad who knew nothing about the sport of basketball except that his son wanted to grow up to play the sport professionally. As a former professional musician, Broadway star and television actor he had an hypothesis. That hypothesis was that there were certain truths that held fast in all professional industries. He believed that the staples of work hard, master your skills, meet the right people, and put yourself in the right places were not only essential for the music business, but essential for all professions. So he went in search of the information that he thought that he would need to help his son Moses reach his goals and dreams. The AAU Basketball Bible is a collection of that research. His hope is that this book can be a resource for parents and coaches like him who want to help their children or young athletes reach their goals. Troy loves educating and inspiring others to succeed and live the life of their dreams. This is a part of that work.
Where to find Troy Horne online
Books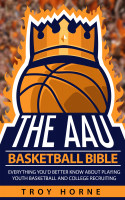 The AAU Basketball Bible: Everything You'd Better Know About Playing Youth Basketball And College Recruiting
by

Troy Horne
The World of AAU Basketball is changing rapidly. This book holds the answers to all of your questions about the new world of AAU basketball. Inside its pages are step by step directions on how to navigate the AAU basketball landscape successfully for you and your young player.
Troy Horne's tag cloud