Mark A. Burch
Biography
Mark Burch is an author, educator, and group facilitator who has practiced simple living since the 1960s, and since 1995, offers presentations, workshops and courses on voluntary simplicity. He is currently a Fellow of The Simplicity Institute in Melbourne, Australia. He is also Up-Skilling Program Coordinator for Transition Winnipeg, a member of Sustainable South Osborne Community Cooperative, and is past clerk of the Peace and Social Action Committee of the Winnipeg Monthly Meeting of Friends (Quakers). Mark has published seven books on voluntary simplicity, as well as essays, articles, podcasts and videos. His most recent book, The Hidden Door: Mindful Sufficiency as an Alternative to Extinction, is published by The Simplicity Institute in Australia.
Books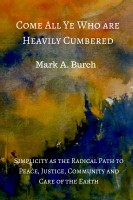 Come All Ye Who Are Heavily Cumbered
by

Mark A. Burch
(1.00 from 1 review)
Much of the violence in the world is structural in nature and is imposed on our behalf on distant others whose suffering is out of sight and therefore out of mind. Mark A. Burch urges us to reduce it by cultivating personal and regional self-reliance through simple living. He explores how our lives have become encumbered, the spiritual roots of simplicity, and how we may regain it.
Mark A. Burch's tag cloud