Mark Given
Biography
Mark Anthony Given a/k/a The King of Montana,( born April 27) is an American writer, adventurer and raconteur. Born in Sanford, Florida, raised in New York and the South. Fine food chef, paralegal, roughneck, heavy equipment operator, and roustabout. Best known for his award winning Original Screenplay, "Paradise Montana," and author of some twenty Blogs, and author of "Real Life Heist", and A Screech and a Bang! The self proclaimed "King of Montana," studies the Torah and The Talmud daily, and having read over three hundred novels, fiction and nonfiction, nearly all the classics, can be found on the back roads of Montana i.e., "Heaven," searching for redemption and atonement.
Where to find Mark Given online
Books

Paradise Montana: An Original Screenplay
by

Mark Given
Paradise Montana is a full feature film screenplay akin to Tennessee William's "Glass Menagerie," and character and dialog of Elmore Leonard. Three lost souls brought together under the Montana Big Sky by lust, wanderlust and suicide.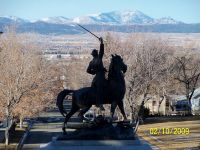 A Screech and a Bang!
by

Mark Given
Price:
$2.99 USD.
Words: 12,880.
Language: English.
Published: November 3, 2012
. Categories:
Fiction
»
Adventure
»
Action
"A Screech and a Bang!" Starts with a Bang! In this hilarious, rambunctious and truly original tale by first time author Mark Anthony Given.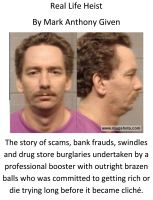 Real Life Heist
by

Mark Given
The true story of a multi-state, 75 banks and $2 Million Split Deposit bank frauding one man crime wave. Professional Blackjack player, drug store burglaries, methadone clinics, doing time and kickin dope in New Orleans. The underside of the American Dream. Real Life Hustler with outright barazen balls. Where Elmore Leonard meets Tennessee Williams an original American life to remember.
Mark Given's tag cloud