Mark F Geatches
Biography
Mark's life has progressed in three main chapters. Chapter one: Music. Mark received a Master's degree in trumpet performance from Florida State University. He performed for several years, including a three year stint in Germany, before moving on to chapter two: Business. Mark built two small businesses which allowed him the opportunity to try a third chapter: Writing. As he nudges his creativity and ambition in a new direction, Mark now builds fiction. Through every period, music has remained his constant companion. Mark finds music and writing the perfect mental connection; the nexus of focus and inspiration.

Mark's short fiction has been published in Romance Magazine, Cowboy Poetry Press, Faith Hope and Fiction, Infective Ink, and A Thousand and One Stories.
Books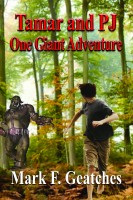 Tamar and PJ One Giant Adventure
by

Mark F Geatches
PJ's weekend began like any other, but his sense of tranquility was mere illusion. Hunted down and poisoned by a wicked humanoid strain, PJ slowly loses his health and sanity as a lone giant races to save him.
Mark F Geatches' tag cloud