Martha Baer
Biography
Martha Baer is a freelance writer of science, business, and technology. Her most recent work has been to co-author Safe: The Race to Protect Ourselves in a Newly Dangerous World.
Baer was the former deputy editor of Wired Magazine, and a founding executive editor of Wired News, the magazine's daily news website. She has also written for The New York Times and Nest magazine. Previously she was a member of the women's performance group the V-girls. She currently lives in San Francisco.
AS FRANCESCA was a national best seller, a BOMC New Voices nominee, and was translated into German and Dutch.
Books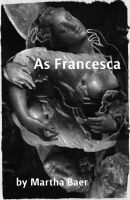 As Francesca
by

Martha Baer
In a darkly comic, highly erotic tale for our time, Martha Baer captures the allure of anonymous cybersex and the elusiveness of gender identity in a world where the real and the virtually real become almost indistinguishable.
Martha Baer's tag cloud