Martin L. Shoemaker
Biography
Martin L. Shoemaker is a programmer who writes on the side…or maybe it's the other way around. Programming pays the bills, but a second place story in the Jim Baen Memorial Writing Contest earned him lunch with Buzz Aldrin. Programming never did that! He was the 2016 recipient of the Washington Science Fiction Association's Small Press Award for his Clarkesworld story "Today I Am Paul", which also appeared in four different year's best anthologies and eight international editions. His work has also appeared in Analog, Galaxy's Edge, Digital Science Fiction, Forever Magazine, and Writers of the Future Volume 31.
Books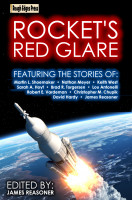 Rocket's Red Glare
by

James Reasoner

,

Martin L. Shoemaker

,

Nathan E. Meyer

,

Keith West

,

Sarah A. Hoyt

,

Brad R. Torgersen

,

Lou Antonelli

,

Robert E. Vardeman

,

Christopher M. Chupik

, &

David Hardy
The stories in Rocket's Red Glare exemplify the adventure, courage, and sense of discovery so vital to the American spirit. Whether daring to cross interstellar space or battling alien conquerors when they come right to our own backyard, the characters in these tales never give up, never stop fighting for their country, their lives, their honor. Packed with space opera excitement!
Martin L. Shoemaker's tag cloud