Mary Barelli Gallagher
Biography
Mary Barelli Gallagher was born and grew up in Boston, Massachusetts, the youngest of twelve children. She first worked for a local paper company and then through Kenny O'Donnell, a former salesman for the company, she was hired by newly-elected Senator John F. Kennedy to be a secretary in his U.S. Senate office, and went to Washington, D.C. in January 1953. She worked for Senator Kennedy for a number of years until her first child was born in 1956. That fall, she became a part-time secretary to Mrs. Hugh D. Auchincloss (Mrs. Kennedy's mother) and then became Mrs. Jacqueline Kennedy's personal secretary in early 1957, a post she held until 1964, a year following the President's assassination.
Where to buy in print
Books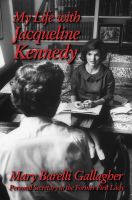 My Life with Jacqueline Kennedy
by

Mary Barelli Gallagher
This book reveals Jacqueline Kennedy as a real person, as a wife, as a mother, as a seeker of perfection in art and life. It reveals in depth information only known by the person with the closest relationship to her, as we worked together on a daily basis. It was published in the United States of America and six additional foreign countries in 1969 and rated #1 on TIME Magazine's Best Seller list.
Mary Barelli Gallagher's tag cloud