Mary Daheim
Biography
Seattle native Mary Richardson Daheim lives three miles from the house where she was raised. Upon getting her journalism degree from the University of Washington, she went to work for a newspaper in Anacortes, Washington. She married David Daheim and moved to Port Angeles where she became a reporter for the local daily. Both tours of small-town duty gave her the background for the Alpine/Emma Lord series. Mary spent much of her non-fiction career in public relations. She began her career as a novelist with seven historical romances before switching to mysteries in 1991. She has published at least 55 novels. Mary's husband David died in February, 2010; they had been married for more than 43 years. They have three daughters, Barbara, Katherine and Magdalen, and two granddaughters, Maisy and Clara. For more information, go to www.AuthorMaryDaheim.com.
Where to buy in print
Books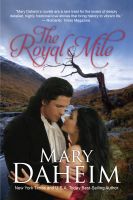 The Royal Mile
In the time of Mary, Queen of Scots, a young girl left destitute by her father's death meets a pirate in the service of the Queen. They make a bargain: he will marry her, giving her security, and she will not reveal his profession or curtail his freedom. By the time love begins to blossom, it may be too late. First they must survive the turmoil plaguing the court of their Queen.
Mary Daheim's tag cloud