Matimba Maluleke
Biography
Matimba Joshua Maluleke u velekiwile etikweni ra ka Thomo, eGiyani, ivi a dyondza kwale ka Thomo ku kondza a pasa Giredi 12. U kumile degree yakwe yo sungula eUniversity of Limpopo (Turfloop). Enkarhini wo kandziyisiwa ka tsalwa leri a tirha tanihi Language Practitioner ePalamende.
Smashwords Interview
Videos
More about Matimba Maluleke
About what inspires me to write, and my writing
Books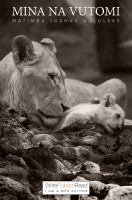 Mina na vutomi
by

Matimba Maluleke
Tsalwa ranga ri mayelana na mavonelo ya vutomi lawa munhu loyi a nga exibakabakeni a nga va ka na wona loko a langutile ehansi emisaveni. Hikuva a ri empfhukeni u kota ku vona swilo hinkwaswo swi lo tlangandla! Hi mhaka ya leswi swilo swi nga siveriwangiki hi nchumu munhu yaloye u kota ku twisisa ku hikwalaho ka yini swilo swokarhi swi humelela hi ndlela yo karhi ematshan'wini ya yo karhi.
Matimba Maluleke's tag cloud