Matthew Nadelhaft
Biography
Matthew Nadelhaft is originally from New York and now lives in Edinburgh. He graduated from the Napier University Creative Writing MA Program and is the editor for Edinburgh spoken-word/storytelling group Illicit Ink. His short fiction has been published in An Electric Tragedy, Blood and Lullabies, The Reader's Digest 100-Word Story Competition, Desire Magazine, and Zombies Ain't Funny. He studied anthropology, worked as a freelance journalist, co-edited the book "America Under Construction: Boundaries and Identities in Popular Culture" and published many articles and papers. He is a reviewer for Tangent and TangentOnline and has designed several boardgames, including the internet-hit "Oh No, There Goes Tokyo!" He is now bald after twenty years without a haircut.
Books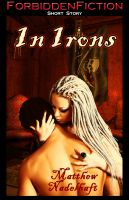 In Irons
by

Matthew Nadelhaft
Death and pain are constant companions in a life lived by the sword, whether on land or on sea. Love, on the other hand, is rare. So when Laulri, a hardened, meets the legendary pirate Sheliegh in a waterfront dive and offers her a drink, the last thing he expected from her was a tale demonstrating just how rare—and how dangerous—love can be. (M/F)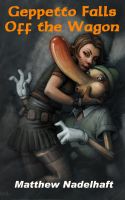 Geppetto Falls Off the Wagon
by

Matthew Nadelhaft
The great woodcutter Geppetto, envious of his creation Pinocchio's wild sex life, builds himself a female companion while on an alcohol-fueled bender. She comes to life hot and willing and Geppetto gets the ultimate sexual experience.
Matthew Nadelhaft's tag cloud