Robert Matthias
Biography
Robert F. Matthias was born and raised in Iowa. He started his mountaineering career in the Tetons of Wyoming upon graduation from high school. He earned a B.A. in Geology from the University of Iowa and an M.S. in Geology from the University of Colorado – Boulder. He later earned an MBA from Xavier University. He has worked as a petroleum geologist, engineering geologist, coal geologist, land manager for major coal companies, and served as VP – Mining for an aggregate producer. After leaving corporate life, he established his own handyman business, doing home repair and remodeling.
Matthias was a Boy Scout leader and youth soccer coach. He continues to work, hike and climb, cycle, and ski downhill and cross country. He has climbed in Peru, the U.S. and Canada. He enjoys writing and international travel.
Matthias is active in leadership in his church, and with the Boulder Group-Colorado Mountain Club. He has a wife, two sons, and three grandchildren.
Books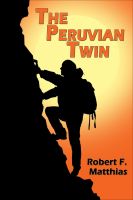 The Peruvian Twin
by

Robert Matthias
(5.00)
When former NSA operative Tom Black rescues a lady from a ruthless killer on the summit of Grand Teton, he meets his match in a fearless and capable woman. With Beth at his side, adventures just seem to multiply and get riskier. They uncover a case of domestic eco-terrorism that nearly results in their deaths, forming a partnership that neither had expected, or even desired.
Robert Matthias' tag cloud