Max Fornicus
Biography
Born in Seattle, WA, Max discovered a love for history in High School. It wasn't until reading Clan of the Cavebear for a college paper, that Max realized the versitility of Historical and Prehistorical settings for romantic and erotic stories to help us relate to our ancient past. Max went on to study History and Anthropology at the University of Washington in 2003. When asked "Why Erotica?" Max replied, "I always had a perverted side, I'd find myself fantasizing about how the Romans or the Egyptians would interact on a sexual level. I mean here in the west we think the 60s and 70s were pretty radical as far as sexual experimentation goes, but man, the ancient Romans and Ancient Egyptians had whole cults developed around sex and sexuality, some of it so fantastic and bizarre, it really turns your head, especially since this all went down thousands of years ago! The ancients were having GREAT sex and a lot of it. I like to explore sexual relationships, particularly those with an imbalance of power and I find I am more comfortable writing about them in the ancient past, as those relationships were more socially acceptable then$.
Books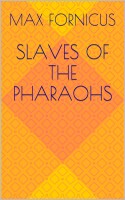 Slaves of the Pharaohs
by

Max Fornicus
Slaves of the Pharaohs follows the lives and intrigues as experienced by two slaves. Zerin, a tall greek is purchased for Princess Nefret, sister to the heir to the throne. Ptolimeus, a slave of mysterious origins, belongs to the sadistic prince Knumose, the younger brother of the current Pharaoh. This story contains Gay erotica, multiple partner sex and master/slave relationships.
Max Fornicus' tag cloud