Max Hitchins
Biography
The say all Australians are 'sports' mad. Whilst it may not apply to 'all' Aussies, it certainly does apply to Max Hitchins. A friend once advised him "If you ever get the opportunity to see the 'best in the world' at any sport you should always jump at the opportunity." So, for Max, the Olympics are two weeks of opportunities every four years. But, as much as he enjoys seeing and applauding the Gold medalist, he has found there are many incredibly stories 'behind the scenes'. These stories prompted him to write the eBook "Motivation and Inspiration from Olympians."
Where to find Max Hitchins online
Books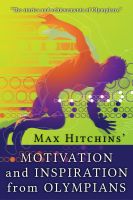 Motivation and Inspiration from Olympians
by

Max Hitchins
Never before, in the history of books about Olympians, has an author been able to weave stories of incredible and inspiring athletic performances into the pages of a book and then 'show' you the performances. Never before have you been able to 'meet the author' (via video) at the beginning of a book about Olympians. In Motivation and Inspiration from Olympians you can do both.
Max Hitchins' tag cloud