MJ Wood
Biography
MJ Wood lives in rural Tennessee with her husband, where she spends her time writing, reading, listening to music, watching movies, lounging in the pool, taking naps, cooking, mowing the lawn and working on home improvement projects. She loves unhealthy food, but hates to work out, which is why she invented her own exercise program involving loud music and jumping around until she sweats. She loves her family, and they are crazy! She loves dogs, but hates dog poop. She gets a thrill when she sees wildlife on her property, especially if its not dead. She loves planning, but hates commitment. And she's always looking for new ways to express her creativity, so she hopes you enjoyed reading her first story as much as she enjoyed writing it.
Where to find MJ Wood online
Videos
Almost Perfect
Steamy Romance Book Trailer
Books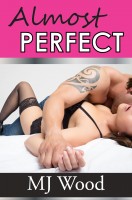 Almost Perfect
by

MJ Wood
(4.00 from 1 review)
MJ Welling is a good girl, and a hard worker who travels for her job. Celibate for nearly three years, she meets the epitome of tall, dark and handsome after a work conference in Atlanta. Immediately, she finds herself falling hard and fast for Ayden. But Ayden's dangerously hot brother has plans of his own. Will MJ satisfy her ultimate fantasy of being with Ayden beyond one passion filled night?
MJ Wood's tag cloud