May Dawney
Biography
When May was a child, her father read Asimov and Zelazny to her. As a teenager, she gravitated toward science fiction, (future) fantasy, dystopian, and occult stories, even though there was never a character she, as a queer woman, could fully identify with. May's motivation to write comes from the desire to create stories where women turn to women once they stop the apocalypse—be it a global or a personal one. She wants to write the stories she wishes her father could have read to her as a child: riveting tales with a heroine who kicks ass and just so happens to be gay.
Where to find May Dawney online
Books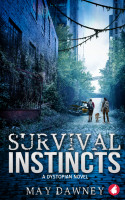 Survival Instincts: A Dystopian Novel
by

May Dawney
Civilization has fallen. Lynn, alone in the debris of a world reclaimed by nature and hiding from the threat of man, is forced to go on a dangerous journey through decaying New York City. As Lynn's feelings for her guard, Dani, grow, she's forced to face her belief that staying alone is the only way to survive. A fast-paced dystopian adventure where love trumps instinct.
May Dawney's tag cloud