Mike Belter
Biography
Mike Belter is a graduate of the United States Military Academy at West Point. He also holds graduate degrees from Ball State University and Syracuse University. Mike has worked many years for one of America's largest electric utilities in a variety of roles. He is heavily involved in the Baldrige process, being a volunteer in the national Baldrige Performance Excellence Program; state/regional programs supporting Ohio, Indiana, West Virginia, Oklahoma, Massachusetts, New York, New Hampshire, Vermont, Maine, Kentucky, Arizona, California, and Washington; and the Alliance for Performance Excellence, the network of all state and regional Baldrige-based programs. Mike is a retired Army Officer, having served in active Army, Army Reserve, and National Guard units as a Finance Officer, Operations Research Analyst, Inspector General, and Comptroller. He served in Desert Shield at Norfolk Naval Base and in Operation Iraqi Freedom in Baghdad. Mike and his wife live in the Midwest with their two pound-puppies and love to holiday in Bermuda.
Where to find Mike Belter online
Books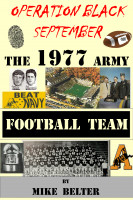 Operation Black September: The 1977 Army Football Team
by

Mike Belter
The 1977 Army Football Team was the most successful team at West Point during the 1970s. The team won the Commander-in-Chief's Trophy by beating both Navy and Air Force and was offered a bowl bid. Players were united by their two Co-Captains, and this led to the only winning Army Football team between the 1972-1984 seasons.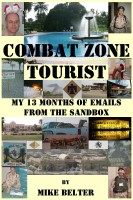 Combat Zone Tourist: My 13 Months of Emails from the Sandbox
by

Mike Belter
Follow the story of an Army Reservist called up in 2004 who served 13 months in Iraq. While there, he begins to write weekly emails to his family and friends back at his civilian job in the United States. He spends 5 months in crazy world of the Baghdad Green Zone - the "world's largest gated community" then 8 months at the Corps headquarters running the war.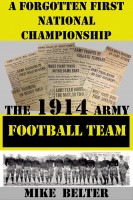 A Forgotten First National Championship: The 1914 Army Football Team
by

Mike Belter
See how the Army college football team was able to win all nine games during the 1914 season. Army decisively played and defeated teams from Rutgers, Colgate, Villanova, Notre Dame, Navy and others. The team was later named by the NCAA as one of three national college football champions for 1914. Players included future Generals Bradley and Van Fleet and Hall of Fame coach Bob Neyland.
Mike Belter's tag cloud