Mel Shepard
I was born to immigrant parents in St. Paul, Minnesota, during the great Depression. I had an unhappy childhood as my mother had a chronic bi-polar disorder. However, my love of literature comforted me during the most difficult years.
After two years of pre-law at the University of Minnesota, I enlisted in the Merchant Marine on America's entering the war, and trained at the Sheepshead Bay Maritime Center in New York where I met my first love. My years in the Merchant Marine were an eye-opener and so was my first romance.
At war's end, I followed my sweetheart to Florida and opened a roadside souvenir stand that eventually led to a large gift shop on Collins Avenue in the heart of Miami Beach where I met people from all over the globe. The business allowed me to travel extensively and I had craft factories in Taiwan and Haiti and was present when an unsuccessful, but deadly, one day revolution was attempted by the Haitian Coast Guard. I attempted to manufacture Danish modern lamps that were in vogue at the time and failed ignominiously. After retirement, I traveled in Venezuela, Brazil and the Caribbean with my love.
As a result of looking back, some of the short stories have ironic implications and make a mockery of the dark side of the human condition: others have amusing, surprising twists to which many can relate.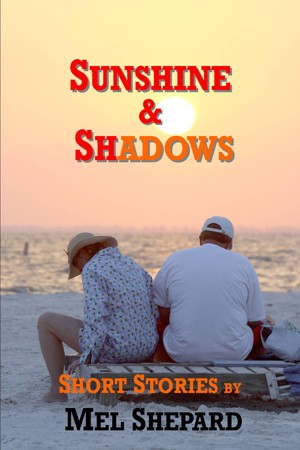 Sunshine & Shadows
by

Mel Shepard
A collection of audacious short stories that will touch the reader's conscience and allow them to laugh at their own past indiscretions.