Melisa Cahnmann-Taylor
Biography
Melisa Cahmann-Taylor is Professor of TESOL & World Language Education at the University of Georgia. She is the winner of Dorothy Sargent Rosenberg Prizes, a Leeway Poetry Grant, and a Fulbright award and has co-authored two books, Teachers Act Up: Creating Multicultural Learning Communities Through Theatre and Arts-Based Research in Education. She has published numerous articles and poetry about language learning, sustainable or fragile states of bilingualism, and teacher education. Her poems have appeared in American Poetry Review, Women's Quarterly Review, Cream City Review, Barrow Street, Puerto Del Sol, Mom Egg, and many other literary homes. Cahnmann-Taylor judges the annual Anthropology & Humanism poetry contest and is the editor of the ethnographic poetry section.
Books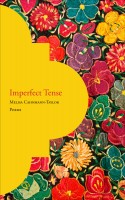 Imperfect Tense
by

Melisa Cahnmann-Taylor
Imperfect Tense is a meditation on language, and the poems in this collection are grounded in teaching, learning, and living between languages and cultures. Much like the imported "dragon fruit," these poems grasp displacement as opportunity; they relish in perpetual outsider-ness as a way inside a fundamentally shared human condition.
Melisa Cahnmann-Taylor's tag cloud