Dr. Melissa Yee
Melissa Lalani Yee was born and raised in Honolulu, Hawai'I, and attended Punahou School and several universities before receiving her Doctor of Acupuncture degree at the Oriental Medical Institute. She has traveled and studied extensively in Europe and Asia. She has led educational campaigns against vote fraud, fluoridation, and GMOs, and was instrumental in passing a city ordinance to keep Hawai'i's water free from substances to prevent or treat a medical condition. She has a private practice in Hawai'i featuring Oriental medicine, bodywork, and bioenergetic meridian testing. She hosts a community television program,Seeds of Truth, on current important medical and political issues, is an organic beekeeper, and a happy Sukyo Mahikari practitioner.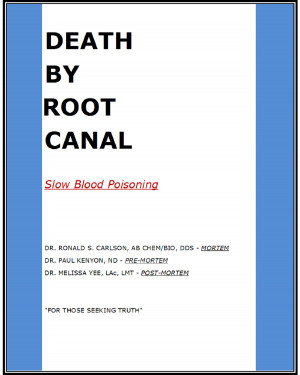 Death By Root Canal
by

Dr. Ronald S. Carlson

,

Dr. Paul Kenyon

, &

Dr. Melissa Yee
Root canal therapy is often claimed to "save" teeth, but in reality, there is nothing to save. A root canaled tooth is a dead tooth, notes long-time dentist Dr. Ron Carlson. In Death by Root Canal, Dr. Carlson clearly and concisely explains why and how root canal teeth become harbors of infection and a systemic health burden so you can take charge of your health and well-being.