Nicole Lee
Biography
Nicole Lee has been teaching for more than a decade, armed with a post-graduate diploma in Teaching Media Studies and a Bachelor of Arts Degree from Monash University, as well as educational psychology experience at UBC. One of two students who received a high distinction for her undergraduate history thesis, Nicole also won a television broadcast award in Canada. Nicole has worked as a teacher and mentor for more than a decade in North America. Having scored straight A's for her graduate studies at UBC, Nicole used some of her academic techniques on students that she was teaching concurrently. Her students have since gone on to study at Princeton, Harvard, Wharton, Cornell, McGill and UBC. Nicole continues to mentor students while helping many to prepare for their college application.
Books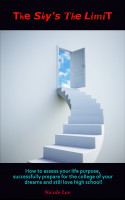 The Sky is the Limit
by

Nicole Lee
This comprehensive manual covers vital facts and techniques that all students need to know including–1) Preparing for college from Grade 9. 2) Helpful college application facts. 3) How to use effective studying techniques. 4) What is a good student portfolio. 5) Successful admission essays by students now in Berkeley, Wharton, Harvard, McGill & UBC etc 6) Dealing with academic stress & anxiety.
Nicole Lee's tag cloud