John Rowlands
Biography
John has contributed to science and particularly astronomy magazines for over 25 years. In 2010, he fought off over 1300 other entries to reach the final four experiments for BBC Radio 4's 'Material World' programme. Since then, John has gone on to continue his studies of atmospheric phenomena, most notably noctilucent clouds. He works in informal parternship with professional scientists and othe amateurs across the globe. John was one of the few who observed and reported dust visible from the UK following the Chelyabinsk meetorite entry in February 2013. John has a number of scientific papers published with other authors in respected journals. John has appeared on NHK (Japan) TV, and BBC TV's 'Midsummer Live!' programme.
Where to find John Rowlands online
Books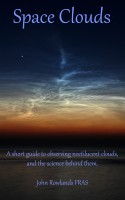 Space Clouds: A Short Guide to Observing Noctilucent Clouds and the Science Behind Them
by

John Rowlands
Noctilucent clouds are spectacular formations that shine in the dead of summer night. If you've never seen them before, or if you want to know more about how they form and how scientists study them, this handy guide written for a general audience will take you gently by the hand. Packed with stunning images of 'space clouds', this guide will take you on a tour of Earth's highest, coldest clouds!
John Rowlands' tag cloud