Michael Jerry Tupa
Biography
A native Californian, I've resided in seven different states -- spread out from California to South Carolina -- as well as in Italy and stint in Japan (U.S. Marines).
For more than 30 years I've worked as a newspaper journalist -- mostl of that time as a sports writer, although I also garnered significant experience as a police/courts beat reporter.
More than three dozen of my poems have appeared in several different literary journals; I've also self-published four volumes of poetry/short stories. Some of my most cherished honors/accomplishments/opportunities is being the sports editor of a sports section twice named by the Oklahoma Press Association as the sports section of the year in our circulation division, receiving an honorable discharge from the Marines following four years of active duty, earning a Bachelor of Arts degree from Weber State, living nearly two years in Italy (church service) among the Italians and learning the language, interviewing a Native American U.S. Olympic champion, receiving the Joseph Orengo Annual Award for sportsmanship and sports contributions in Oroville, Calif.
I've also won my age division (25-29) at a 5K run road race in Memphis, Tenn.; shook Ronald Reagan's hand in 1990; interviewed numerous pro and high-level college athletes, including at least two former Heisman Trophy winners (Archie Griffin and Jason White); written a full-length history of American Legion Baseball in Bartlesville, Okla.; and enjoyed numerous other once-in-a-lifetime opportunities to interview some of sports' most significant personalities from the past half-century.
Books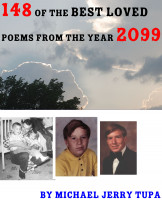 148 of the Best-Loved Poems from the Year 2099
by

Michael Jerry Tupa
The poetry collection in "148 of the Best-Love Poems from the Year 2099," is truly an effort in the lifetime of a making. Most of the works inside attempt in uplift, inspire or to provide unique insights on life, hope, love and the virtue of old-fashioned values.
The Bloody Smile of Midnight
by

Michael Jerry Tupa
A dark shadow of indiscriminate murders is covering the town of Piedi d'Argento. With clues as scarce as footprints in the ocean, city police detectives Mike and Rusty begin a dogged search to stop the killings. But, as they near the end of their quest, one question appears -- will they succeed or become just two more victims of the evil.
Michael Jerry Tupa's tag cloud