Michael Landweber
Biography
Michael Landweber grew up in Madison, WI, went to school in Princeton, NJ and Ann Arbor, MI, met his wife in Tokyo and currently lives with her and their two children in Washington, DC. He has worked at The Japan Times, the Associated Press, the U.S. Department of State, Partnership for a Secure America and the Small Business Administration. Mike is an Associate Editor at Potomac Review and a contributor on film and TV for Pop Matters. His short stories have appeared in places such as Gargoyle, Barrelhouse, American Literary Review, Fugue, Fourteen Hills, and The MacGuffin. He really enjoys making lists. More on Mike can be found at mikelandweber.com. We is his first novel.
Where to buy in print
Books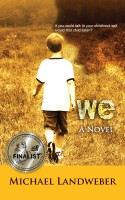 We
by

Michael Landweber
After an accident, 40-year-old Ben regains consciousness in the house he grew up in. Ben has become a psychic hitchhiker in the brain of his younger self, 7-year-old Binky, who is not happy to have him there. It is 3 days before a vicious attack on his sister that will scar Ben's family forever. Even if Ben can get Binky to say the right words, who will believe a boy can foretell the future?
Michael Landweber's tag cloud