Michael Loring
Biography
Michael Loring was born in Bristol, Connecticut, but has lived in a variety of places such as Florida and Tennessee. He likes to think of himself as an amateur Lycanthropologist, studying werewolves ever since he was eight years old when he first saw An American Werewolf In London. He spent most of his life switching between home school and public school, always focusing on his passion of writing no matter what. His interest in writing was sparked in the second grade when his teacher encouraged him to write short stories for the class, earning him more than one award at school assemblies for Creative Writing. He currently resides back in his birthplace of Connecticut with a house full of women who like to drive him up the wall until he finishes his chores. Though they seem to avoid him during the night of the full moon for some unexplainable reason...
Where to find Michael Loring online
Books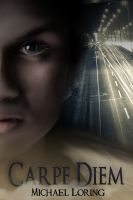 Carpe Diem
by

Michael Loring
(3.00)
James is dead. All it took was a quick flash, a crack, and then a loud thud. After waking in a world of endless gray he meets a man named Bud who claims to be what he calls "The Guide." James follows Bud through levels of his own mind, discovering that the afterlife isn't like he thought it would be and that the secret to life isn't so secret after all.
Michael Loring's tag cloud