Michael Sikorsky
Biography
Michael Sikorsky is a square dance caller by career and won the Most Entertaining Caller award at the very first Ozzie Awards held in Las Vegas in 2011. Michael is nominated for the same award again for the Ozzie Awards 2013 which will be held in Raleigh, North Carolina. Michael has written 2 books about a square dance calling system he invented and named the Activator Stream system. Michael has a winter square dance calling program in Mesa, Arizona, and tours in the summer to places all over America, Germany, Sweden, and more. Michael is one of the featured square dance callers on a Caribbean cruise in December 2013. There are many videos of his performances and interviews available on YouTube.
Where to find Michael Sikorsky online
Books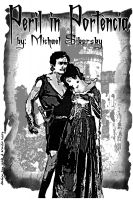 Peril in Portencia
by

Michael Sikorsky
Peril in Portencia will take you on the dramatic and exciting adventure of Christopher and Serenah saving each other. Serenah has been imprisoned in the castle tower by the sorcerer Jonas. The skill and cunning of Christopher and Serenah working together is absolutely essential to the success of this rescue. This Peril in Portencia episode will have your heart racing and smiling.
Michael Sikorsky's tag cloud