Michael Wilder
Biography
Michael Wilder is a husband, father, grandfather, businessman, speaker, author, and co-founder of the ministry Ex-Mormon Christians United for Jesus. A former Mormon, he once served as a high priest in the LDS Church. In that role, he held numerous leadership callings including high counselor, bishopric member, temple worker, etc. Michael left Mormonism for a relationship with Christ when he read the Bible.
Books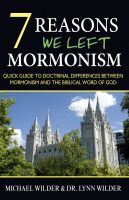 7 Reasons We Left Mormonism
by

Lynn Wilder

&

Michael Wilder
Former Mormons Michael and Lynn Wilder share the 7 reasons that led them from over 30 years of devout Mormon involvement to biblical Christianity. From Michael's leadership to determine if a person was "Temple worthy" to Lynn's role as tenured professor at Mormon-owned BYU, you'll discover the beliefs that changed their heart and mind as they examined the Bible's words for themselves.
Michael Wilder's tag cloud