Michael Wolf III
Biography
Michael Wolf has been living in Manhattan for several years now. It wasn't more than a few months ago that he decided to start shaving his Love of NYC and Writing. As a result of this "revelation", the website you know now as MichaelWolf.Co.Uk was birthed. Having had the chance to go on an adventure with Michael Wolf himself has brought me to a whole new perspective and understanding of NYC and how it could be lived in. It was like living inside of his mind and experiencing life as Michael for a day. Manhattan will never look the same again. After many of our discussions I had learned how most of his writing came to be, and the process he undergoes to produce his work. "It is my goal to share all that I have and love with the world; I wan't to make everyone smile and show people that no matter how bad life can be, you can still smile and have a good time. I don't want anyone to know who I am, I just want to show…"
Where to find Michael Wolf III online
Books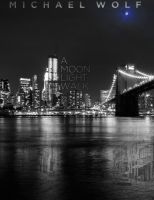 A Moon Light Walk
by

Michael Wolf III
"A Moon Light Walk" Is a Psychological Thriller written from a most cleaver perspective. You won't know which side to take or who you will want to embody. This Noir style short was written for the sole purpose of bringing the reader into a mindset unlike any other he/she has ever experienced before. New York City can either be your playground or your worst nightmare - Who will you be?
Michael Wolf III's tag cloud