Mickey Michaels
Biography
Author Mickey Michaels confesses that this book is largely autobiographical. Many of the little onion's experiences, feelings, and fears are common to all of us -- as she says, "part of the design of onions." She hopes you will identify with this little onion's struggles and that the resolution will help you see yourself in a new light.
Books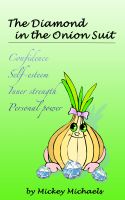 The Diamond in the Onion Suit
by

Mickey Michaels
Price:
$2.99 USD.
Words: 12,200.
Language: English.
Published: May 10, 2013
. Categories:
Fiction
»
Inspirational
The Diamond in the Onion Suit is an allegory – a story where the characters are not human, but they represent human nature. Sort of like Jonathan Livingston Seagull, but these characters are onions rather than seagulls. How can we release our hidden strength and power? Perhaps the answer has been within you all along.
Mickey Michaels' tag cloud