Michele Di Salvia
Biography
I'm a 32 Italian guy who has just ended an amazing experience in the country he has always dreamt about, Australia. I started it with the only purpose of completing an MBA and it ended up in a completely different way. This last year has been rough, strange, amazing, and, more than everything else, a terrific process of introspection. Now that I'm back to my country I have decided to tell my little story.
Books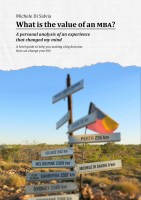 What is the value of an MBA
by

Michele Di Salvia
This is a personal story which wants to tell you a path of growth rather than teach you something. A journey which led me to an important discovery: new aspects of myself. I will also give you some tips that can guide you from taking the decision to do or not to do the MBA itself, through exam preparation, to the final extent of what you can expect after you finish.
Michele Di Salvia's tag cloud
Smashwords book reviews by Michele Di Salvia
Mentorship What Does a Mentoring Relationship Matter? on Aug. 29, 2014



I found this book very interesting, especially because is linked with the world of MBA, that I'm accomplishing right now. The importance of a mentor is very strong for those who want to enhance their career and here there are some interesting ideas