Helena Michl
Biography
Helena Michl & Marion Frith

Helena and Marion are professional writers, influencers and change facilitators.

Former journalists, and now communication and change strategists, they know communication is key to navigating change and managing turmoil.

In their first co-authored publication 'Separation & Divorce - Would you do it again?' they interview 13 women who have made the decision to end their marriage or long-term relationship and share their experiences, wisdom and insights for the benefit of others facing a similar dilemma.

Between them, Helena & Marion's writing has appeared in newspapers and magazines in the United Kingdom, Australia, South Africa and online and been broadcast on Australian radio. They have extensive experience in high-level speechwriting and positional writing for major organisations.

They both currently live in Australia with their respective partners and families.
Books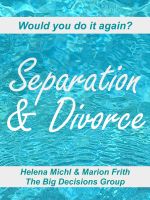 Separation & Divorce - Would you do it again?
By
Helena Michl
Price:
$9.99 USD.
Words: 53,850. Language: English. Published: January 6, 2014. Category: Nonfiction
(5.00 from 1 review)
'Separation & Divorce - Would you do it again?' is a rich source of life experience. It explores the circumstances and the intellectual and emotional processes of 13 women who decided to end long-term relationships. Each woman then answers the question: "knowing what you know now - would you do it again?" Anyone considering this big decision will benefit from their invaluable insights and advice.
Helena Michl's tag cloud