Miguel Bronchud
Biography
Miguel Hernández-Bronchud was born in Barcelona but went to school at the Liceo Massimo d'Azeglio in Italy, Turin. He started research on cancer at the age of seventeen and graduated BM, BCh (English equivalent to the American MD degree) from the University of Oxford, Wolfson College in 1983, following a BA, MA degree in Natural Sciences at the University of Cambridge (Gonville and Caius College) in 1980. He took his Doctorate (PhD) in 1990, and also studied Medieval History and Arts. He has won several international awards in cancer medicine , and also a Cambridge literary price for translations of poems by Primo Levi from the original Italian into English . He has published over twenty books in cancer medicine, and three non-fiction books in English: The Secret Castle (three editions: 2007, 2010 and 2012); From Stones to God (2011); In Search of a Missing God (2011). Bronchud is also Mark Master Mason with Freemason and Rosicrucian affiliation in England and Spain.
Books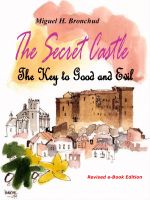 The Secret Castle: The Key to Good and Evil
by

Miguel Bronchud
This book starts in the ancient Castle at Mora De Rubielos, in Spain. This Castle has a XIIIth century winding staircase, leading to the dungeon, with secret Masonic symbols engraved on the vertical side of most steps and on the walls. The author made attempts to save the stairs (and the engravings) from the destruction of time and wear, but also to understand the meaning of these symbols.
Miguel Bronchud's tag cloud