Mike Alexander
Biography
Just an ordinary guy obsessing over comic books for most of his life... I've been taking notes on my own superhero universe for over 25 years, and I thought it was high time I started writing those ideas down. I've lived in a few places around the country (michigan to florida), and held a wide variety of jobs (student, retail, dancer, zookeeper). I'm a pop culture junkie and an information addict. I want to take the opportunity to make a mark on the world, and hope to make my voice heard.
Where to find Mike Alexander online
Books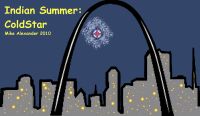 Indian Summer: ColdStar
by

Mike Alexander
A comic book world where the previous generation of superheroes and their villains have disappeared in the wake of world peace and alien contact. Now, in the new millenium, the age of heroes is starting to re-awaken, with new talents never seen before. This origin story shows us the world still revolves when no one is looking...
Mike Alexander's tag cloud