Mike Fraser
Biography
Mike Fraser (BA, MSc, MPhil) is a proud Scot. He is a retired College Lecturer who lives in North Northumberland with his very patient wife Margaret. He is on the Management Committee of Belford Museum. His main interests are walking, photography, culture and sport, but he also spends far too much time on Twitter.
In recent years he has become interested in local political history and in 2013 completed a well-received study of Sir William Beveridge as MP for the Berwick Division. At present he is researching First World War Military Service Tribunals in the Berwick upon Tweed area and in 2015 he intends to return to his study of the life of Sir Edward Grey MP, this time focussing on his early political career.
Books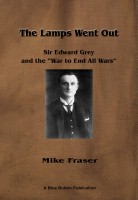 The Lamps Went Out - Sir Edward Grey and the 'War to End All Wars'
by

Mike Fraser
On the evening of 3rd August 1914, Sir Edward Grey, the British Foreign Secretary looked out of the Foreign Office window and famously declared that "The lamps are going out all over Europe. We shall not see them lit again in our lifetime". This study examines the key choices Grey and others made in the weeks leading up to the beginning of war and the impact these choices had on his life.
Mike Fraser's tag cloud