Mike O'Driscoll
Biography
MIKE LIVES IN SWANSEA. WHEN NOT WRITING HE WORKS with adults with mental health problems. His fiction has been published in TTA publications Black Static and its predecessor The 3rd Alternative, Interzone, and Crimewave, as well as in Fantasy & Science Fiction, Albedo One, Back Brain Recluse and a whole bunch of long since deceased small press magazines, may they rest in peace. He's also had stories in numerous anthologies including Inferno, The Dark, Lethal Kisses, Off Limits (all edited by Ellen Datlow), Gathering the Bones (edited by Ramsey Campbell & Dennis Etchison), Darklands and Neonlit (both edited by Nicholas Royle), The Year's Best Fantasy & Horror #17, and two volumes of Stephen Jones' Mammoth Book of Best New Horror. His essays on David Cronenberg and David Lynch appeared in The 3rd Alternative, and his writings about all things horror, Night's Plutonian Shore, featured until recently in Black Static. His story 'Sounds Like' was adapted and filmed by Brad Anderson as part of the Masters of Horror TV series. He now writes a column called Silver Bullets about television for Black Static.
Where to find Mike O'Driscoll online
Series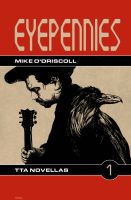 Books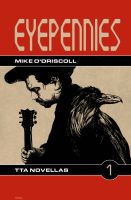 Eyepennies
by

Mike O'Driscoll
Eyepennies is a novella inspired by the music and life of Sparklehorse, aka Mark Linkous. It's the first in the new series of TTA Novellas.
Mike O'Driscoll's tag cloud