Michael Davis
Biography
NOTES ABOUT THE AUTHOR

Michael Davis was born in 1931 in Poona, India. Mike has often said the fact the he was born in the same hospital as Spike Milligan had some bearing on his outlook on life. The son of an English tea planter and descendent of John Quincy Adams (Boston Pea Party and President Of United States of America) he was brought up on the family tea estate in Ceylon. Whilst learning about the family business as a small boy he grew up with some rather unusual pets. An elephant who would often join the family for breakfast and a rather endearing parrot called Jacob Barnaby.

During WWII he was educated in Bilton Grange three miles from Warwickshire in England where he became Head Boy. At school at Loretto, in Scotland he was played Rugby for Scotland at the age of fifteen. On leaving school at 16 he joined the Merchant Navy as a cadet officer. After various adventures at the age of 19 he then joined his father as a tea-planter in Ceylon. Later in 1950 he sailed on a South African J-class yacht, Cariad I, on a voyage from Colombo to Africa. After returning to Ceylon he emigrated to New Zealand.

He worked as a shepherd on a large rural property in Hawkes Bay where he was to meet his wife and father three children. Then working at the port of Napier as a Watersider. Later a radio copywriter and also producing a record album. For a short time he was also an officer in the New Zealand Army. He moved to Auckland and ran a successful Marketing and Public Relations company for many years.

During his time in New Zealand in the 60's he wrote two books. "Mutton on the Menu" (AH & AW Reed) was considered a best seller in its time. His second book "The Watersiders" (AH & A W Reed) was written after four years working on the wharves.

In 1989 Michael moved to Australia to be near his daughter and family. In Sydney he worked in a variety of part-time capacities. He worked for a number of years for the charity Helicopter Care Flight where funds were raised by selling Doctor and Nurse Teddy Bears to the health industry and wider community. Quite a challenging task. He sold so many he ended up with quite an aversion to teddy bears! He has always been considered an asset at any dinner party. His gift of story telling and dry wit always makes conversation interesting and never dull. Much like his life.

Tragically in 2009 he was involved in a terrible house fire. He was not expected to survive but miraculously recovered.
His book "Burnt Not Broken" was written in 2011 whilst convalescing.
Books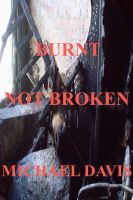 Burnt Not Broken
by

Michael Davis
Twice published author Michael Davis has lifted the blanket on an area of human survival not contemplated by most people until it strikes them personally. At the age of seventy-seven Michael Davis managed to become part of a horrific accident. A combination of circumstances that resulted in a major fire, leaving him with thirty-seven percent degree burns. Here is his remarkable survival story.
Michael Davis' tag cloud