M. W.
Biography
Mike White is always working on something strange and self-abasing. A creative writing major at Full Sail University, White is busy reanimating the skeleton of a novel about vice, perception, time, space, obsessions, and the freedom one can only find while float-high on ancient, tribal hallucinogens.
Books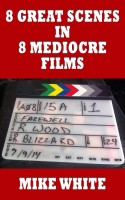 8 Great Scenes in 8 Mediocre Films
by

M. W.
8 Mediocre Films and 8 Great Scenes in One Short List.
M. W.'s tag cloud