Mikey Jackson
Biography
Mikey Jackson is a novelist, scriptwriter and coffee addict from the seaside town of Worthing, near Brighton, on the south coast of England where the sun sometimes shines, but it mostly rains. Aside from novels, he writes both comedy and drama material for TV, radio, film, theatre, print and web. He has also had short stories published in print, ebooks and on phone apps.
Where to find Mikey Jackson online
Books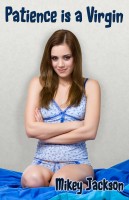 Patience is a Virgin
by

Mikey Jackson
At twenty-five years of age and after one embarrassing revelation on a drunken birthday evening, Patience Hope sets out to lose her virginity. Or perhaps her mind. Possibly both. The important thing is that she gets laid, and put her no-longer-secret shame behind her. As a willing young woman in a city full of theoretically horny young men, she can't imagine it will be that difficult. Could it?
Mikey Jackson's tag cloud