Minx Charmer
Biography
Minx Charmer, AKA Kisha Bennett, is a native from the Island of Roatan in the Caribbean, North of Honduras. She loves to write and some of her favorite pastimes include writing, traveling and disc overing new things.
Her writing credits include local newspaper articles from the Island, blogs at Helium.com, real estate articles at Condo.com and a teaching article for Transitions abroad on the subject of education in Costa Rica.
Books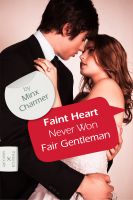 Faint Heart Never Won Fair Gentleman
by

Minx Charmer
DARCY STONE is tired of a boyfriend that can't make up his mind. Fed up with his unsteady ways she moves on with her life, certain that true love will never come her way. Much to her delight, Darcy's new neighbor ALEXANDER REMINGTON, makes her believe in a 'happy ending' again. But shy of past mistakes, getting his attention proved more of a challenge that she had anticipated.
Minx Charmer's tag cloud