Brianna Webber
Biography
Hi! I'm Brianna Webber, and I'm the author of On the Other Side. On the Other Side is my first book, and I'm super excited to have finally finished it. I was raised with books around me, read to me, and reading them myself. I know that most people have vices for when they get mad, and most people's vice, is to totally lose it. I know I'm different, because when I get really mad, I run off and go read. Most of the time, I pour myself into "The Hunger Games", but sometimes I'll jump into "The Sisterhood of the Travelling Pants". I hope you enjoy my book, because I couldn't just write; I had to do a bunch of research on names, geography, and language. Let me tell you, writing dialect from an African-American in 1830, is VERY difficult. Anyways, enjoy On the Other Side!!!!
Where to find Brianna Webber online
Books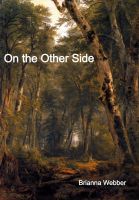 On the Other Side
by

Brianna Webber
Mae and Ben are polar opposites. They live and work on a cotton plantation in southern Georgia. Mae is thought to be nameless, and commands high respect, while Ben is clumsy and a coward. But when Mr. Martin shows up, Mae and Ben are thrown into a whirlwind of decisions. The risk of death and recapture, hang over their heads. Will they run to freedom, or will they stay, where their stories are.
Brianna Webber's tag cloud