Mitchell Fink
Biography
During his thirty-year career in journalism, Mitchell Fink has been a columnist at the Los Angeles Herald Examiner, People magazine, the New York Daily News, and an on-air correspondent at CNN, Fox, CBS, and Access Hollywood. His books include the New York Times bestseller, Never Forget: An Oral History of September 11, 2001 (ReganBooks/HarperCollins), which he co-wrote with Lois Mathias, The Last Days of Dead Celebrities (Miramax), and Change of Heart, (Open Books Press), the true story about a black man who was transplanted with the heart of a white woman. Mitchell is currently producing a documentary and writing a book about the extraordinary career and life of Steve Madden, the world's leading shoe designer and a man who started with $1,100 in 1991 selling shoes out of the trunk of his car and now has a company, Steve Madden Ltd., worth more than $2.5 billion.
Books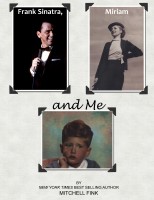 Frank Sinatra, Miriam, and Me
by

Mitchell Fink
The book is about the author's childhood obsession with Frank Sinatra, from picking up and saving his cigarette butt. and seeing him perform in the company of mobsters, to later developing a professional relationship, which led to Sinatra giving the author what turned out to be the last formal interview he ever gave for publication, the YouTube audio link to which is included in the book.
Mitchell Fink's tag cloud