Helen Cook
Biography
I love reading and writing. I grew up in the New Orleans area and spent a lot of time in the bayou area of Louisiana, fishing and crabbing with my dad, as a young girl. I always dreamed of pirates from our area as a young child, hoping I could find their hidden treasure someday. Seeing the plantations was also an interest of mine.
Hearing the old tales about the battle of New Orleans and knowing I lived in such a historical area, made me feel like I had my own personal window into the past. I tried to learn as much about our history as I could.
One of my favorite pass times was when we would go for a drive and end up at an abandoned fort on the outskirts of New Orleans.My two sisters and I would play while my mom and dad would set up a picnic for us.
Books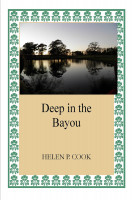 Deep in the Bayou
by

Helen Cook
Crystal and Dinah start out on a short road trip when a strange storm comes up. They pull over into what they think is a roadside park and things get stranger and stranger. When they go to take a look around, their car vanishes and they see a plantation in the distance. They go deeper in to the woods and deeper into the past.
Helen Cook's tag cloud