Michael Joseph
Biography
Michael Joseph was born and raised in Washington, DC, and
now resides in Maryland. Married for 36 years, he is the father of
3 children and 2 grandchildren. In his spare time he is an avid tennis player
and has competed in local tournaments. Seduced by Satin is his third published
eBook.
Books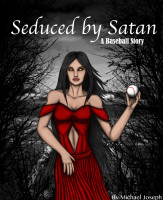 Seduced by Satan: A Baseball Story
by

Michael Joseph
Washington National's top relief pitcher Rock Harmon has dreamed of making the baseball playoffs since he was a young boy. Now in the twilight of a great career , he begins to struggle.The team hires Sports Psychologist, Dana Dee, hoping to improve Rock's performance on the field. But Dana has her own agenda, and makes Rock a startling proposition. The price is steep but will Rock accept?
Michael Joseph's tag cloud