Moky Huynh
Biography
Moky Huynh dropped out of USC, the University of Southern California, with merely one semester to complete, choosing to cut against the grain to determine the truths of life on his own terms. He lives in Los Angeles, where he pursues his passion of the arts by taking part in live performance, dance, and writing. He has performed in a range of one-man shows along the West Coast, his most recent being "A Soul Unfettered" at the Palace of Fine Arts Theatre in San Francisco. He is currently preparing for his Los Angeles show in 2013. "College Dropout" is his debut novella, a personal narrative on courage and sacrifice.
Where to find Moky Huynh online
Books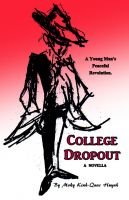 College Dropout
A gifted artist rejects the traditional path to create his own route. His brash decision to ascertain the wholeness of life brings resentment and controversy from the mainstream populace. The overwhelming censure provokes him to question his own inherent virtues, including his infamous judgment to drop out of college.
Moky Huynh's tag cloud