Sheena Sade Robinson
Publisher info
Sheena Sade Robinson currently writes and resides in Ohio. Growing up, she reveled in her own fantasy world. That world was not only a source of entertainment for her, but an awesome way to escape mundane reality. It led her to journaling, composing poetry, and writing books. Understanding the powerful impact in choice words, she decided to use them to influence, inspire, and delight children, adults, and everyone in between.
Books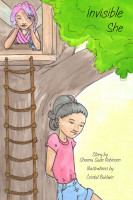 Invisible She
by

Sheena Sade Robinson
Sheena goes from being the baby of her family to the middle child overnight. Her parents are obsessed with her new twin siblings. Her sister lives in her own teenaged world. Sheena feels invisible, but invisibility no longer seems like a punishment when a wish brings to life a fairy named Mystic. She takes Sheena on a journey that teaches her that magical things aren't always meant to be seen.
Sheena Sade Robinson's tag cloud