Bernabe Cruz
Biography
Mr. Bernabe Cruz is the author of GOD Kept Me: The Testimony of Bernabe Cruz, available on Amazon at https://www.amazon.com/God-Kept-Me-Testimony-Bernabe/dp/153332476X. This book is a true story about Mr. Cruz's life, who survived the grasp of death many times, until he met Jesus Christ. He went from a world of violence, drug addiction, prison and homelessness to becoming a bishop, preaching in the Philippines and India. This book is only available as paperback, but this Smashwords is dedicated to The Last Hour series of short fiction stories set during world war three.
Books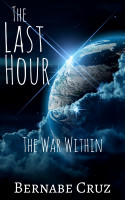 The Last Hour: The War Within
by

Bernabe Cruz
(5.00)
In the first of this series, The War Within, Peter witnesses the start of world war three and encounters two strange men with a vision.
Bernabe Cruz's tag cloud