Mr. X
Biography
Mr. X does not wish to reveal his real name. He's twice divorced. He blames himself for all he's been through and the Family Court, which in his opinion exists to serve itself. Mr. X has been homeless, bankrupt, and sent to jail on three different occasions for contempt of court. (His longest sentence being one year). It took him 15 years, working two jobs, seven days a week, to resolve the financial issues that resulted from being divorced. Precious moments in time were lost forever. It is his sincere wish that his e-book will cause men to be honest with themselves and the women they intend to marry or divorce. These are major life decisions. Making the wrong decision can cause hardships for all involved; and lets not forget the children.
Smashwords Interview
Books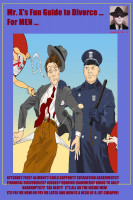 Mr. X's Fun Guide to Divorce For Men
by

Mr. X
In Mr. X's Fun Guide to Divorce For Men you'll learn about the fun world of Attorneys, Judges, Hearing Examiners, Financial Discoveries, Separation Agreements, Child Support, Alimony, Wage Garnishments, and best of all going to jail! Good old Mr. X has included some financial work sheets, a sample Separation Agreement and suggested inter net searches so you can judge for yourself!
Mr. X's tag cloud